About Us
Smithfield Ice Cream Place was established in the summer of 2003. We are located in Smithfield Village across from the Post Office.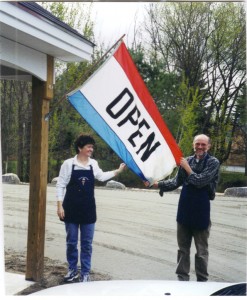 That 1st summer, former owners Jeff & Cindy Giroux, employed only 2 people. Our menu and business has grown since that 1st year. We now employee over 15 people and our menu now includes pizza, lobster rolls and panini sandwiches.
We value the hard-working members of our team who aim to provide a friendly, hospitable service to our community. Guests should expect quality ice cream, generous portions, and a setting that invites them to enjoy the surroundings.
We offer outside seating as well as an outside screened in dining room overlooking beautiful East Pond Stream. Customers may arrive by car, by boat on the East Pond Stream landing or on foot as we are within minutes of Sunset Beach and the Smithfield Roller Rink.
Smithfield Ice Cream Place is open from Memorial Day weekend through Labor Day weekend.
We invite you to come by and visit us!